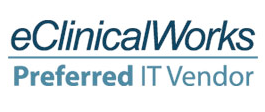 eClinicalWorks® is one of the most popular Electronic Medical Record and Practice Management systems for medical practices small or large.  If you find yourself talking tech with eClinicalWorks®, and getting frustrated because of your lack of tech savvyness, Lutrum is a great go to resource to work directly with eClinicalWorks® for all technical issues.
Lutrum eClinicalWorks® support includes, but is not limited to:
Network infrastructure design and implementation
Hardware and software procurement and installation
IT Network/Server/User Security
eClinicalWorks® Client/Server support
eClinicalWorks® Vendor Management
and More!
Lutrum values itself by providing the most precise customer service in medical IT solutions. At Lutrum, we create innovative and effective technology solutions that help large or small medical practices operate smoothly and securely. Lutrum is a certified eClinicalWorks preferred IT vendor, allowing our company to provide our clients the most comprehensive, reliable and secure EMR software solution.
To blend IT support with eClnicalworks® support for your medical practice, contact Lutrum today!